Physiotherapy is a practice which helps to restore mobility and function when a person is suffering from an injury or condition. It is also used to reduce the risk of trauma or illness occurring in future. This is done through a series of services that include general advice, exercise designed specifically for each individual and manual therapy. Taking on a comprehensive approach, physiotherapy actively involves the patient in the process of their own treatment.
In-house physiotherapy allows employees to access such services at work. It can be beneficial to people of all ages and with a wide variety of roles and plays an especially important role in occupational health. People with positions that involve lots of manual handling, such as those working in the construction, manufacturing, and mining industries, are most likely to benefit from it due to being prone to a range of various conditions, e.g., ones that involve the bones, joints, and soft tissue. Issues like that are indicated by symptoms like back, neck and/or shoulder pain and are often the result of intense physical activity.
Conditions affecting the lungs and breathing of a person are another example and can affect a wide range of individuals such as factory workers, auto body spray painters, farm workers and hair stylists. If undetected, lung damage can lead to illnesses such as chronic obstructive pulmonary disease (COPD). As the abovementioned job roles impose a higher risk on the worker's health and well-being, physical therapy can help both to prevent injuries and to speed up the recovery process in case damage to an employee's health has already occurred.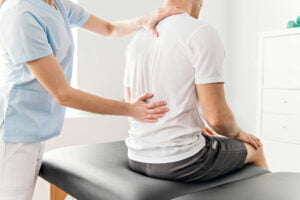 By preventing injuries or providing early treatment for conditions before they have become chronic, physiotherapy significantly reduces time taken off work, as well as the possibility of further treatment being required. This not only boosts the workforce's productivity, but also reduces costs for the employer.
Providing in-house physiotherapy for workers allows the professional conducting it to take into consideration all the conditions that are involved in your employees' work and the way it is performed. This includes company culture, how fast-paced the environment is and how exactly employees spend their time at work. Being aware of these details gives the physiotherapist an opportunity to tailor the treatment they provide with accordance to each individual's specific needs.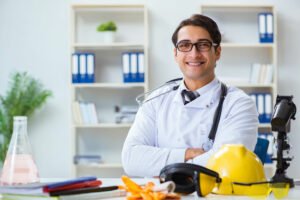 The ability to observe the work environment from within also allows physiotherapy professionals to notice whenever safe working practices are not being observed by employees and advise them accordingly. In this way, in-house physiotherapy allows for a more thorough, in-depth assessment and prevention of possible risks.
Undertaking active measures to avoid chronic conditions from developing also benefits the mental health of employees, which in turn boosts their work output. Individuals who are involved in health initiatives at work are likely to have higher engagement levels and perform to their fullest potential. The awareness that their well-being is important to the employer helps them feel valued and respected which promotes a sense of community and boosts the employees' motivation to challenge themselves and grow professionally.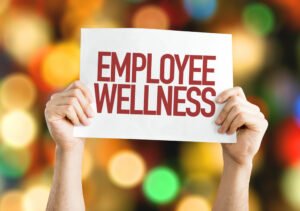 We at Healthscreen UK understand the important role that physiotherapy plays in occupational health. We offer physiotherapy services in a wide range of clinics across the UK and can even offer a triage service- our experienced professionals can perform an assessment over the phone on patients suffering from a variety of conditions. If you still haven't made physiotherapy a part of the occupational health practices at your business, wait no longer and contact us today to get a free, no obligation quote!