What Regulations Are in Place for Display Screen Equipment (DSE) Usage at Work?
According to the Display Screen Equipment Regulations 1992, employers must protect workers from the health risks of working with display screen equipment (DSE) such as PCs, laptops, tablets, and smartphones.
The regulations apply to those workers who continuously use DSE on a daily basis for periods of an hour or more, and those workers are referred to as 'DSE users.' Workers who only use DSE infrequently or for short periods of time are not covered by the regulations.
To stay compliant, employers must:
Perform a DSE work assessment
Identify and reduce the risks, including by making sure that workers take breaks or perform a different activity
Provide workers with adequate training and information
Provide a vision test in case the employee asks for one
What Health Risks Are Associated With DSE Work?
Some of the problems experienced by employees who frequently work with display screen equipment may be caused by incorrectly designed workplaces, however the reasons may not always be obvious and could be due to a combination of factors. DSE workers might experience the following health issues:
Fatigue
Eye strain
Upper limb problems
Pain in the neck, back, wrists and hands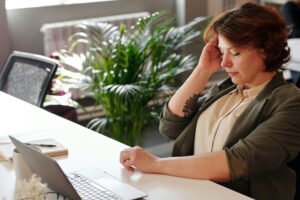 What Can Employees Do to Help Their Eyes?
There are many ways in which employees can protect their eyes from the risks associated with DSE work. Some of these include:
Ensuring their screen is appropriately positioned
Checking if the lighting conditions are suitable (lower blinds if the light is too bright, as well as ensure artificial lighting isn't too overpowering)
Taking regular breaks
Regularly re-focusing their eyes away from their computer screen to prevent eye strain
Adjusting the settings on their computer display so that they suit their needs (brightness, text size, contrast, colour temperature, etc.)
Managing the Risks
There are several low-cost, straightforward controls that employers can use to manage the risks associated with DSE work:
Ensuring Employees Are Comfortable
Forearms are horizontal, and employees' eyes are in line with the top of the screen
There is enough space to accommodate all equipment
The desk and screen are arranged in a way that prevents glare and bright reflections
There is enough space under the desk for the employee to move their legs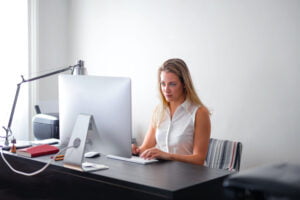 Designing Workstations Appropriately
There is a space in front of the keyboard for the employee to rest their hands
The mouse is positioned within easy reach
Characters on the screen are easily readable and the brightness is appropriately adjusted
Scheduling Breaktimes
Employees can benefit from:
Stretching and changing position
Having short, frequent breaks (rather than longer, infrequent ones)
Changing activities before they get tired
Regularly looking away from the computer screen

Training and Information
It is the employer's responsibility to provide DSE users with training and information regarding the risks involved in DSE work and the safe practices they need to observe in order to avoid these risks, including:
Good posture
Adjusting chairs
Organising desk space
Adjusting screens and lighting
Breaks/changes in activity
Risk assessments
How they should report problems
The employer must also inform users about the DSE health-and-safety arrangements that are in place and how employees can apply for a vision screening assessment.
The Importance of Vision Screening
Employers are obliged to arrange an eye test for workers who frequently use display screen equipment in case they request one, and to provide them with appropriate glasses if such are needed.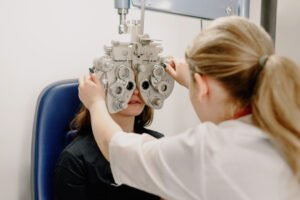 Healthscreen UK offer on-site vision screening/sight testing to employees whose eyesight is a significant factor in their work performance. Our service includes:
Providing you with tailored advice on the responsibilities you have under the Display Screen Equipment Regulations 1992
Advising you on which employees will require eyesight testing
Carrying out eyesight assessments using appropriate equipment and compliant with guidance
Arranging follow-ups and providing references as required
Are you looking to provide vision screening for your employees who frequently use display screen equipment? Contact Healthscreen today for more information, or click here to receive a free, no-obligation quote!