Noise-induced hearing loss is a serious problem in many workplaces, especially those with high levels of sound pollution. At Healthscreen, we offer on-site audiometry assessments to help identify any hearing loss in your employees and ensure that they are adequately protected against further damage.
Our comprehensive audiometry assessments are performed by our trained professionals using the latest equipment and methods that comply with the most recent standards and guidelines to ensure accurate results. At the beginning of the assessment, we obtain all relevant information from the employee regarding their medical history and exposure to noise. After performing the hearing test, any issues with the employee's hearing are brought to the attention of the company management and a referral service is offered.
We also provide noise surveys to identify the source and level of noise in your workplace, including readings, findings, and a report on necessary actions and appropriate protection levels.
Additionally, we offer custom-made hearing protection for your employees, attending your site to take impressions and providing one set of earplugs per employee for ultimate hearing safety.

Early identification of any hearing loss, allowing employees to receive appropriate protection and support to manage their condition, reducing the risk of complications and improving overall health.
Reduced absenteeism and increased productivity by ensuring that employees can continue to work safely and effectively.
Safer work environment for all employees through identifying and addressing potential noise hazards and implementing appropriate control measures.
Compliance with legal requirements and industry standards for hearing protection, helping to avoid potential fines or legal issues related to occupational noise exposure.
Ensuring Regulatory Compliance
Ensuring a safe and healthy work environment is a fundamental responsibility of every employer. In line with industry regulations and standards, our audiometry testing service assists you in meeting your legal obligations. Compliance with legislation, such as the Management of Health and Safety at Work Regulations 1999, is essential to protect your employees from the risks associated with noise exposure. By choosing our audiometry testing service, you demonstrate your commitment to maintaining compliance and safeguarding the well-being of your workforce.
Any employee who is exposed to high levels of noise in the workplace should consider getting an audiometry assessment.
The frequency of testing will depend on the individual's risk factors, workplace environment, and medical history. Typically, an initial hearing test is performed during the employee's first year at the organisation to establish a baseline for their hearing. A comparative test should then be undertaken 12 months after. In case these tests don't flag any issues, your testing schedule should reduce to one assessment every 2-3 years.
If hearing loss is detected, our professionals will provide advice and referrals to appropriate medical professionals or programmes to manage the condition. We can also provide custom-made hearing protection to prevent further damage.
Contact us today to schedule an on-site audiometry assessment and ensure your employees are adequately protected against further hearing loss.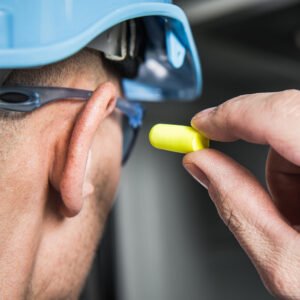 Blog
Noise-induced hearing loss as a result of occupational exposure is a very common cause of work-related ill-health. According to the Labour Force Survey (2017/2018), 63
Read More »