Forklift, Mobile Plant and Company Driver Medicals
At Healthscreen, we understand the importance of ensuring that drivers of forklifts, mobile plants, and other company vehicles are fit to operate these machines safely. Our medical assessments are designed to evaluate a driver's physical and mental fitness, ensuring that they are able to control their vehicle safely while on the job.
Our medical assessment begins with a detailed review of the driver's medical history. We gather information about any underlying medical conditions, surgeries, or medications that may impact their ability to safely operate a vehicle. This step allows us to assess the driver's overall health and identify any potential risks or limitations.
Following the medical history review, our experienced healthcare professionals conduct a thorough physical examination. This examination includes various tests to evaluate key factors that contribute to safe driving. We assess vision acuity and peripheral vision to ensure adequate visual capabilities while operating vehicles. We also test hearing to ensure drivers can hear warning signals and communicate effectively. Additionally, we evaluate strength and coordination to assess physical fitness and motor skills necessary for safe vehicle operation.
As part of our assessment, we also review relevant test results such as blood pressure and diabetes tests. These tests provide insights into the driver's overall health and help identify any underlying conditions that may require further evaluation or treatment. By considering these factors, we can provide a comprehensive assessment of the driver's fitness to drive.
Following the assessment, our team prepares a detailed report summarising the driver's fitness to drive. If any concerns or recommendations arise during the assessment, we provide guidance on further evaluation or treatment options. We work closely with employers to ensure that drivers receive the necessary education and training to enhance their driving skills and maintain safety on the road.
Ensuring the safety of your drivers and others on the road
Compliance with legal requirements for driver medical assessments
Reduced risk of accidents and associated costs such as damage to vehicles and loss of productivity
Improved employee well-being and job satisfaction
Ensuring Regulatory Compliance
Forklift, mobile plant and company driver medical assessments should be repeated at regular intervals, typically every five years, depending on factors such as age and the medical condition of the driver. However, questionnaire surveillance should be performed more often for change in circumstance factors, such as new medication, surgery, or medical conditions.
Yes, drivers with medical conditions can still pass the medical assessment, as long as they are adequately managed and do not pose a risk to themselves or others while operating the vehicle. Our assessment includes screening for hidden conditions such as high blood pressure and diabetes to ensure drivers are fit to operate the vehicle safely.
Healthscreen has a team of fully trained professionals who can perform the medical assessment. Our team is experienced and follows the latest standards and guidelines to ensure accuracy and reliability.
Contact us today to schedule your forklift, mobile plant, and company driver medical assessments and ensure the safety of your drivers and others on the road, as well as your compliance with regulations.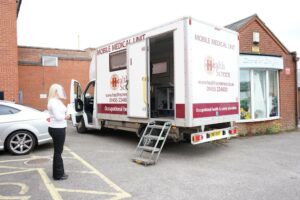 Blog
It is celebrated news that we have recently expanded our clinics and are now operating from The Pines Hospital in Manchester and Tolherst Court in
Read More »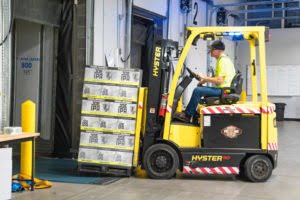 Blog
"A Chorley company has been fined after a forklift truck (FLT) overturned on a slope trapping the driver. Manchester Magistrates' Court heard that on 1
Read More »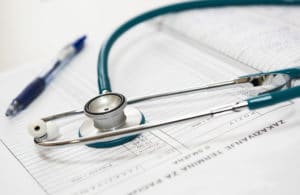 Blog
Keep your employees in the best of health & watch your productivity soar with Healthscreen UK's Occupational Health Surveillance service:
Read More »