Healthscreen is a reputable provider of comprehensive Safety Critical Medicals in London, catering to the unique needs of individuals working in safety-critical roles across diverse industries. With a steadfast focus on ensuring the fitness for duty of employees in safety-critical positions, we prioritise their wellbeing and foster a secure work environment for both themselves and their colleagues.
Comprehensive Safety Critical Medicals in London
London's thriving industries, including retail, manufacturing, transport, and technology, present specific health challenges in safety-critical roles. At Healthscreen, our safety critical medicals are meticulously tailored to address the requirements of these sectors. By conducting thorough assessments, we strive to identify potential health risks or conditions that could impact an individual's ability to perform their duties safely and efficiently. Our comprehensive Safety Critical Medicals encompass a wide range of assessments and tests, including:
Baseline health questionnaires to gather essential medical and psychological health history, providing valuable insights into an individual's overall well-being.
General health assessments that measure vital parameters such as weight, height, body mass index (BMI), blood pressure, pulse, and other relevant indicators.
Audiometry (hearing tests) to evaluate auditory function, particularly crucial in industries with high noise levels where clear communication and auditory awareness are vital for safety.
Respiratory function tests to assess lung health and ensure individuals can meet the demands of safety-critical positions, especially important in sectors involving exposure to pollutants or respiratory hazards.
Visual acuity, color vision, and peripheral vision screening to evaluate visual capabilities required for roles that demand precise visual perception and awareness.
Dermatology assessments to address any potential skin-related concerns that could affect the safety-critical tasks performed in various industries.
Musculoskeletal and mobility assessments to evaluate physical fitness, ensuring individuals can safely perform the required tasks associated with their safety-critical roles.
Optional additional assessments, including drug and alcohol testing, working at height evaluations, confined space assessments, night worker assessments, and hand-arm vibration assessments (HAVs), tailored to meet specific job requirements and industry regulations.
By choosing Healthscreen for Safety Critical Medicals in London, you can rely on our commitment to delivering exceptional service, prioritising employee wellbeing, and supporting your organisation's safety, productivity, and compliance with regulations. Our experienced team of professionals is dedicated to providing thorough assessments and impartial advice, ensuring that employees in safety-critical roles are fit for duty and contributing to a secure and productive work environment.
Unsure if your workplace falls within our coverage?
Below is an overview of the main locations we cover from our clinics in West and South London:
South London (Our Clinic – Interchange House, 1st floor, 81-85 Station Road, Croydon, Greater London, CR0 2AJ, United Kingdom)
West London (Our Clinic – 77 Fulham Palace Road, Greater London, W6 8JA, United Kingdom)
Acton
Beckenham
Brixton
Bromley
Camberwell
Caterham
Croydon & South Croydon
Crystal Palace
Epsom
Kingston upon Thames
Merton
New Malden
Peckham
Sutton
Thornton Heath
Wandsworth
Wimbledon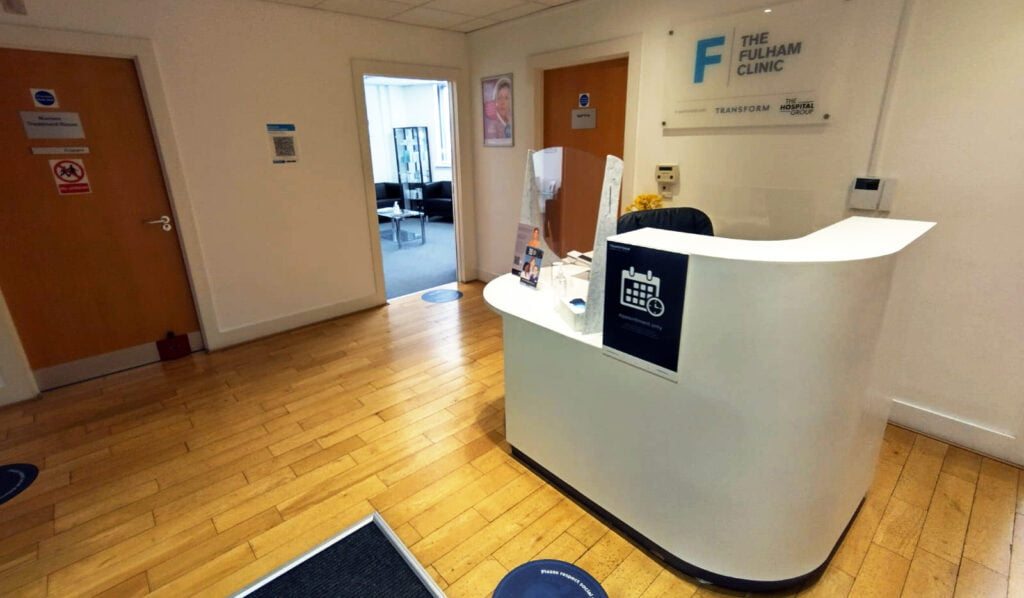 Contact us now to arrange a booking
Our fully-equipped clinics in London are ideal for comprehensive safety critical medical assessments. To schedule an appointment, simply reach out to us at  0208 051 7892 or fill out our convenient contact form. Our dedicated team will be glad to assist you.